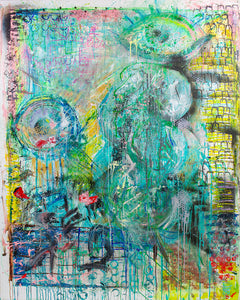 Kk v. Kk 11x14 Art Print purchase from Amity Artisan Goods.
Kk v. Kk or Bromidic Perfunctory Feminism v. Ubiquitous Philosophical Equality by artists Preston Gravitt and Janet Antepara. 
Amity will give back 100% of the proceeds to the artists and Rose Haven.
Artists Janet Antepara and Preston Gravitt will donate 40% of all proceeds generated by their collaborative painting Kk v. Kk to Rose Haven, a day shelter and community center in Portland for women, children and gender non-conforming folk experiencing the trauma of abuse, loss of home and other disruptive life challenges.